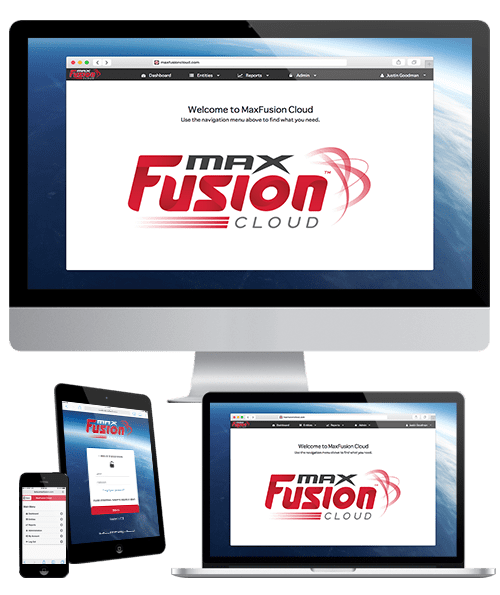 MaxFusion Cloud™
MaxFusion Cloud is a revolutionary new cloud-based reporting system for the MaxFusion Charitable Gaming System. Data is collected in real-time at your location on our MaxFusion Server and is sent securely over the internet to our centrally located Cloud Server System. Data is warehoused indefinitely and available to you 24/7 on either your computer or smartphone. MaxFusion Cloud is a sophisticated multi-tenant cloud-based reporting system. A custom, highly flexible, role-based permission model ensures users only have access to the data they need to see and nothing more.

Reporting

MaxFusion Cloud reporting system is state-of-the-art. Reports are delivered quickly to either your phone or your computer. We include many useful reports in the system but can also develop custom reports to meet your needs.

Site Security

MaxFusion Cloud was architected and built with security in mind from day one, as opposed to application security being patched in as an afterthought. Sensitive data is protected using strong encryption – both in transit over the wire, and in the database. Access to the application's APIs requires a two-way handshake for authentication, and a one-time usage security token is transferred which expires seconds after it is created in order to protected against hijacking and message replay.

Reports

MaxFusion Cloud Reports

New Reports are added often; our current reports:

Daily Ticket Sales Report
Monthly Ticket Sales Report
Regulatory Site Summary
Ticket Sales by Game

Export, Email, Whatever!

MaxFusion Export Functions

Any report on the MaxFusion Cloud can be saved as a PDF file for filing or adding as an attachment to an email. You can also save any report as a .CSV file for use in your favorite spreadsheet program. MaxFusion Cloud reporting is simple and flexible to make sure you have access to your MaxFusion data from anywhere in the world, any time you need it!

Technical Support

MaxFusion Cloud Technical Support

Having problems using the MaxFusion Cloud? Simply call our Support Center and request help. Technicians can help you over the phone with anything you need and can even use a special feature to "see what you see" in order to help you solve your technical issues while using the MaxFusion Cloud. Call 1.800.277.6214 for help anytime!